Museum of Industry "Brig. My. Juan Ignacia San Martin"
Museo de la Industria "Brig. My. Juan Ignacio San Martín"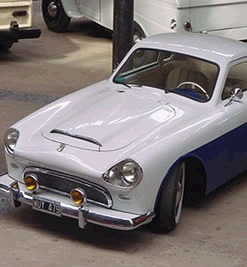 Opened in 1996, the museum focuses on the history of the local industry. Cordoba is one of the industrial hubs of Argentina, where automobiles, motorcycles, airplanes are being produced. There are Justicialista and IKA cars shown - both were the results of an initiative to produce a "national car" in the early 1950s. Similarly, locally produced motorcycles are also shown.
Display
Automobile
Motorcycle
Automobilia
Info
Opening Times: Monday: CLOSED Tuesday: 8:00 AM - 2:00 PM Wednesday: 9:00 AM - 2:00 PM Thursday-Friday: 8:00 AM - 2:00 PM Saturday-Sunday: 9:00 AM - 7:00 PM
Address
Libertad 1130
Cordoba
Córdoba
Argentina
E-mail
info.museodelaindustria@gmail.com