This museum is part of the Heat Hotel Complex and it is housed in an authentically preserved cinema, "which further contributes to the realistic feeling of being transported back to the time of Georgi Dimitrov and Todor Zhivkov.... Here you can see numerous retro cars from the socialist era and also many objects from the life of the people of that time, their toys, radios, TVs, numerous signs with slogans etc."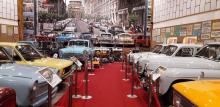 The National Museum of Military History (NMMH) is a state museum, which from its establishment until today is a structure of the Ministry of Defense (respectively the Ministry of War and the Ministry of National Defense).It investigates, preserves, processes scientifically and popularizes cultural valuables connected with the national and European military history. NMMH develops its activities throughout the country.
Located in the parking house of this biggest shopping mall in Varna, this exhibition includes exhibits from the period 1944-1989, which shows artifacts related to how Bulgarians lived under socialism. Bulgarian unfiltered cigarettes, Russian vacuum cleaners, Gedera household goods, Polish cosmetics and the most coveted cars, produced in the former COMECON are being displayed.