The Egged Museum presents more than 60 buses that have been lovingly collected, built and renovated, and which reflect nearly seventy years of public transport in Eretz Israel. A visit to the Museum reveals to the visitors the history of public transportation, beginning with British Army surplus trucks that were converted into passenger vehicles after the First World War up to the modern and air-conditioned buses of today. The museum also features a few passenger cars, including locally made Sabra.
The museum represents huge collection of airplanes and helicopters, which were the parts of standard equipment of Israel Air Forces. There are also models from civil aviation of the country. Audiovisual representation about Israel Air Forces, exhibitions- "Roots of the Air Forces", "1948 - takeoff permitted", "Air Force commanders" and "Stay alive" - devoted to Israel Air Forces survive. On the museum's central area placed more than 20 airplanes. Air-defense means are in separate zone. In addition to airplanes and helicopters, there are a few Autocar Sabra cars as well.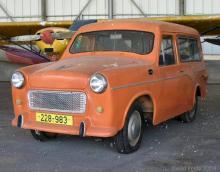 An old agricultural building in Kibbutz Eyal hides a hidden treasure. Within this building resides one of the most amazing collections of vintage cars in the country. The collection mainly features British automobiles from the 1930s and 40s. A stunning two-tone Jaguar pre-dating the country ( 1946 ) and a 1930 MG Midget sports car ( believe it or not, it's made of cloth stretched over it's ashframe ), are just two of the surprises that await you. Mr.